Higher Professional Diploma in Early Years Level 4
Description
Typology

Course

Level

Advanced
Description
The units you will study are as follows: The Higher Professional Diploma in Early Years focuses on. the application of the key values and principles of early years practice. the expertise needed to deliver and manage an effective early years curriculum. the theories and practice of child development, learning and behaviour management. policies and practice for promoting the health, safety
Facilities
Preston (Lancashire)
See map
St Vincent'S Road, PR2 8UR
To take into account
Must hold a relevant Level 3 qualification.
Questions & Answers
Ask a question and other users will answer you
Course programme
Higher Professional Diploma in Early Years - Level 4Course ID:
PC08468
Academy:
Health, Social Care & Early Years
Introduction:
The Level 4 Higher Professional Diploma (HPD) in Early Years is a new qualification for individuals who aspire to higher level roles in the childcare and education profession. The qualification is equivalent to the first year of a Foundation Degree and facilitates career mobility by focussing on the development of the knowledge and skills needed to progress to higher level positions within the early years sector.
Study Mode & Location:
The course runs for 25 weeks and is held on Thursdays for three hours at Preston College, Fulwood Campus, St Vincents Road, Preston, PR2 8UR.
Course Content:
The units you will study are as follows:
The Higher Professional Diploma in Early Years focuses on
the application of the key values and principles of early years practice
the expertise needed to deliver and manage an effective early years curriculum
the theories and practice of child development, learning and behaviour management
policies and practice for promoting the health, safety and wellbeing of young children
the skills needed to lead teams and work in partnership with families, parents/carers and other organisations
the management and financial expertise required to run integrated settings
an analysis of educare provision in the UK and Europe.
Assessment:
Students will undertake a range of assignments and classroom based activities.
Careers & Progression Opportunities:
The Higher Professional Diploma in Early Years offers CPD opportunities for individuals working in or aspiring to a range of job roles such as:
Children centre Supervisors/Managers (Community) Nursery Nurse / Childminder/ Education and Childcare Inspector/ Lead Practitioners /(Nursery) School Teacher/ Officers in Charge/ Play Therapist
Playworker/ Pre-school advisers/ Sure Start workers/ Teaching Assistant/Learning Support Assistant/ Trainer/assessor/ Youth and Community Worker
How To Apply
You will need to have an informal interview with an Adult Admissions Adviser.
Many courses have limited places so please enquire as soon as possible. Following interview, the earliest you may enrol is mid-June.
Money Matters
Depending upon your circumstances, you may be able to study at a reduced price.
Help, Advice & Further Information
If you know of someone who would like to study a course at Preston College but their first language is not English, please contact the Advice Centre on their behalf to discuss the options available.
Opening Hours:
Mon-Thur 9am-7.30pm (9am-5pm during College holidays)
Fri 9.30am-4.30pm
The information contained in this leaflet was correct at the time of production. Preston College however, reserves the right to alter or amend the details contained in this leaflet. This course will run subject to sufficient student numbers.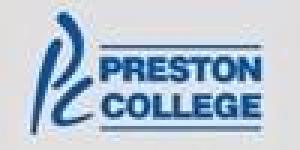 Higher Professional Diploma in Early Years Level 4