Finances and Accounting with ACCA - Bachelor's degree
6 reviews
Good

Doing finance and Accounting in Vistula is so amazing I dont regret choosing it

O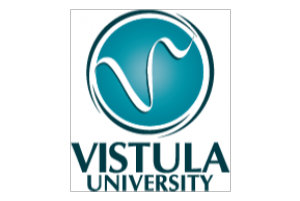 Description
Type

Bachelor's degree

Methodology

Online

Duration

3 Years

Start date

Different dates available
Online campus

Yes

Delivery of study materials

Yes

Support service

Yes

Virtual classes

Yes
Developing practical skills and educating students willing to find employment in the area of finance and accounting across several specialized fields is central to the Finance and Accounting study programme.

In the previous years the programme was of general academic character with more practical approach by introducing modifications each year via introduction of new elective subjects.

Current F&A study programme approved on April 9th, 2018 by the Faculty's Council was largely modified in order to make it even closer to economic practice and by doing so to adjust it to labour market's needs.
Facilities
Start date
Different dates available
Enrolment now open
About this course
Graduates of Finances and Accounting can expect to work in many interesting and well-paying positions in various institutions. Your future position depends on the sub-major you choose. Accounting and finance Finances and financial markets Insurance Banking Finance and financial markets – investment capital markets ACCA accounting and taxes
BENEFITS OF STUDYING FINANCES AND ACCOUNTING Expert knowledge Specialised sub-majors enable you to gain the knowledge that interests you, and best develops you towards your professional future. You will be taught by accomplished practitioners working in the industry. Global possibilities A world-class curriculum, continued collaboration with foreign students, and the opportunity to attend courses taught in English – this means that this programme will prepare you to take up work abroad, if you so desire. Prestigious accreditation All graduates of Finance and Accounting at Vistula University, receive a diploma, confirming that they have passed five out of nine fundamental ACCA examinations. ACCA is one of the most prestigious professional qualifications from the area of finance and accounting, prized by employers worldwide. Holding it, will increase your chances of receiving a promotion to a managerial position, along with achieving professional success. A business approach The classes are taught by accomplished practitioners, and this ensures that you will not only gain theoretical knowledge, but also learn how to apply it in the real world, as well. Our faculty's extensive experience, and the opportunity to start networking during internships, are sure to bear fruit and help you find employment and professional satisfaction.
Questions & Answers
Add your question
Our advisors and other users will be able to reply to you
Reviews
Good

Doing finance and Accounting in Vistula is so amazing I dont regret choosing it

O
Have you taken this course?
Thembeka Ncube
Would you recommend this course?:
Yes
Fadzai Michelle Chipomho
About the course:
Doing finance and Accounting in Vistula is so amazing I dont regret choosing it
Would you recommend this course?:
Yes
Olzhas Malik
Would you recommend this course?:
Yes
Hazel Garduque
About the course:
The course gives students a competitive edge when they graduate from the school because of the ACCA accreditation. To add to that, the professors in the problem have a great amount of knowledge and experience in finance and accounting. Lastly, the school has various connections to different companies that can help in the advancement of your career.
Would you recommend this course?:
Yes
Iryna Shumeiko
About the course:
The academic staff fully meet the expectations and give knowledge that can be used in the profession.
Would you recommend this course?:
Yes
Ridwan Akintunde
About the course:
Studying Accounting in vistula university gives to edge compare to any other university because vistula has an affiliation with ACCA which gives you certain exemption in so area
Would you recommend this course?:
Yes
See all
This centre's achievements
All courses are up to date
The average rating is higher than 3.7
More than 50 reviews in the last 12 months
This centre has featured on Emagister for 4 years
Subjects
Statistics

3

3 students say they acquired this skill

Mathematics

3

3 students say they acquired this skill

Economics

5

5 students say they acquired this skill

ACCA

5

5 students say they acquired this skill

Banking

3

3 students say they acquired this skill

Finance

4

4 students say they acquired this skill

Management Accounting

4

4 students say they acquired this skill

Communication Training

4

4 students say they acquired this skill

Insurance

2

2 students say they acquired this skill

Financial

3

3 students say they acquired this skill

Financial Training

1

1 students say they acquired this skill

GCSE Mathematics

Teachers and trainers (1)

Course programme

ABOUT PROGRAMME

The curriculum of Bachelor`s Degree Studies consists of general courses and major courses in the following economic areas: introduction to economics, micro-economics, macro-economics,

mathematics and statistics: mathematics 1, financial mathematics, descriptive statistics, mathematical statistics, quantitative methods for business, information and communication technologies for business,

Finance: introduction to finance, public finance, international finance, banking, insurance, corporate finance – financial management.

Accounting: Introduction to accounting – Business accountant, Financial accounting, Bank accounting and insurance accounting, Management accounting, SME accounting,

Others: Introduction to management, Introduction to law, foreign language, entrepreneurship, cross-cultural communication, communication and argument techniques, thesis seminars and advanced techniques of thesis preparation, sport.

The above courses constitute a set of obligatory subjects for students of all majors studying F&A programme. Those courses allow to gain knowledge of and elaborate ability to use mathematical, statistical, regulatory tools necessary to undertake micro- and macroeconomic analysis, to evaluate business situations, to explore and master skills related to majors.

The above programme was awarded the ACCA certificate.

The detailed list of general courses, major courses and specialization subjects are included in the appendix.

Apart from the above general courses students follow major courses or elective courses listed in the so-called University's bank.

List of obligatory classes for all sub-majors, introducing you to the world of economics

economy basics,
microeconomics,
Macroeconomics,
mathematics I,
financial mathematics,
descriptive statistics,
mathematical statistics,
quantitative methods in business,
ICT in business,
foreign language ,
entrepreneurship,
intercultural communication,
communication and argumentation techniques,
diploma and advanced seminars with writing techniques,
physical education,

Classes which are part of the major, introducing aspects of finances and accounting

Basics of finance
Basics of accounting – accountant in business
Finance 1 – Public finances and Finance JST (Local Self-Government Units)
Finance 2 – International finance, EU Finance
Accounting 1 – Financial Accounting
Accounting 2 – Bank Accounting, Insurance Accounting
Accounting 3. Management accounting I
Banking – basics of banking, banking risk
Law in business
Buisness finance
Insurance

Additional information

Full-time studies

Tuition fee (per year) 2 500 €
Tuition fee (per semester)1 350 €
Registration fee 120 €

Finances and Accounting with ACCA - Bachelor's degree

We finance your learning in easy installments

You can pay the full amount

{iframeContent}

Spread your payment over 3, 6 or 12 months
All you need is your ID, mobile number and card

Add similar courses
and compare them to help you choose.

{title}

{centerName}

{price}

{price}

{priceBeforeDiscount}

{taxCaption}

Training by subject

Undergraduate Degrees of Business and Management

Undergraduate Degrees of Design and Media

Undergraduate Degrees of Finance

Undergraduate Degrees of Health

Undergraduate Degrees of Humanities, Social Science, Education

Undergraduate Degrees of Industry and Science

Undergraduate Degrees of IT, Computing, Telecommunications

Undergraduate Degrees of Languages

Undergraduate Degrees of Law and Defence

Undergraduate Degrees of Sales and Marketing

Undergraduate Degrees of Sports and Leisure

Undergraduate Degrees of Tourism and Hospitality