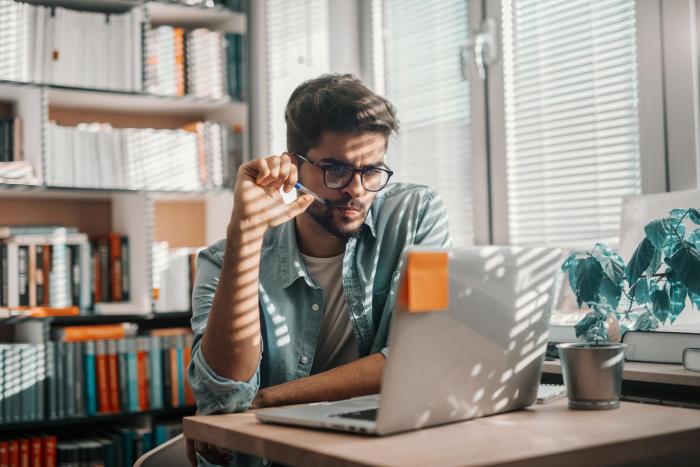 Are you ready to boost your career?
Type

MBA

Methodology

Blended

Location
Duration

Flexible

Start date

Different dates available

Virtual classes

Yes
Emagister added to its catalogue the Online MBA Degree endorsed by Vlerick Business School.

If you want to enrol in a challenging and accurate programme, then this MBA is what you have been looking for.

This is a 100% online MBA in which you will face real-life simulations and it will give you the practical skills to tackle any business challenge you encounter. The comprehensive programme, which includes courses on leadership, strategy, global business and digital trends, is specifically designed to enable you to fulfil and go beyond your professional potential with a maximum of flexibility.


The Online MBA is specifically optimised for online learning, offering a combination of online role play, webinars and video lectures to support you in your assignments. You can engage in group discussions, submit coursework and communicate with your lecturers without setting foot on campus. Students will not only have access to all the needed resources and coaching, but they will also have the flexibility to improve themselves around your existing personal and professional commitments.

The programme is 26 months in duration, but there is a Fast Track option which takes just over a year or you can extend to a maximum of 5 years to complete. This gives students the ability to study at the decided pace.

Learn more information about this programme now! Contact Vlerick Business School through Emagister.co.uk
Facilities
Brussels (Belgium)
See map
Start date
Different dates available
Now taking bookings
Start date
Different dates available
Now taking bookings
Start date
Different dates available
Now taking bookings
About this course
Professionals and Executives with a minimum of 4 years of relevant professional experience. The average Online MBA Applicant has 10+ years of experience
To apply to our Online MBA you need to: Have at least 4 years of full-time work experience Hold an academic degree from an accredited university OR A professional degree with a valid GMAT or Executive Assessment Score As part of the application process you need to: Complete and pass an aptitude interview with the Vlerick team via Skype Complete and pass an analytical and English online test
One of our programme advisors will personally get in touch with you to answer your questions, invite you to a virtual tour of the platform and guide you throughout the application process.
Questions & Answers
Ask a question and other users will answer you
This centre's achievements
This centre has demonstrated its quality on Emagister
Subjects
Business simulations

Managing the organisation

Bootcamps

Effecting change

Completing the cycle

Professional assessment

Career Coaching

MBA programme

Business management

Fundamentals OF BUSINESS
Course programme
PROGRAMME STRUCTURE12 online modules of each 7 weeks including 3 live sessions:


Leadership Development (including Coaching)
Doing Business in a global world
Financial and managerial accounting
Marketing
Corporate Finance
Strategy
Entrepreneurship
Human Resource Management
Operations and Supply Chain Management
Digital Strategy
Innovation management
Negotiations
Knowledge-in-Action Project
Integration Management Exercise (Business Game)
Optional international trips (together with Executive MBA Participants) – at a surcharge