PV Engineering Training: Off-grid Applications
Description
Typology

Training

Methodology

Inhouse
Location

Berlin (Germany)

Duration

5 Days
Description
By the end of the course you will know about the various components and different types of modules and PV system components and you will be able to design and install a PV system.
Suitable for: Engineers, technicians, installers, business people
To take into account
Basic technical understanding of PV Systems is required.
Questions & Answers
Ask a question and other users will answer you
Course programme
Practical knowledge in an intensive and compact one-week course. Includes a special focus on sales and marketing.
This hands-on workshop teaches you how to design and install a PV off -grid system. By the end of the course you will know about the various components and different types of modules and PV system components. Topics such as system design and sizing as well as component selection, simulations and monitoring will be presented. The course also focuses on challenges that may arise during installation.
The course is supplemented by numerous practical exercises, for example:
DC circuits and use of tools
Measuring module characteristics
Assembling a PV off -grid system
Use and handling of batteries and inverters
Excursion
During two field trips you will get to know systems and concepts which provide the operators with reliable power in unusual situations.
Topics
Introduction to solar energy
Configuration of PV off -grid and hybrid systems
Solar irradiation
Components: technical properties, sizing and preparation
Solar cells and modules
Mounting systems: cables, wiring and isolation methods
Inverters and charging regulators, battery configurations
Solar water pumps
System design
Economic aspects, marketing and sales, project management
Please Note:
Our tailor-made courses are matched precisely to your training requirements. Depending on your priorities, the courses may have a technical, managerial, economic or strategic focus. Training can be adjusted in duration and depth and our courses can be organized for groups of various sizes, different levels of know-how and to cover various technologies. You determine when and where the training will take place – in RENAC's Training Center or at your premises worldwide.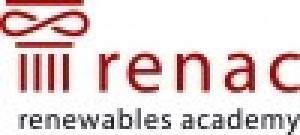 PV Engineering Training: Off-grid Applications