Carrier Oils - Properties, Uses and Applications
Description
Typology

Short course

Level

Advanced

Location

Scarborough
Class hours

6h

Duration

1 Day
Description

Suitable for: Aromatherapists. The course covers the production and uses of carrier oils along with making a product.

This one day workshop covers 15 common hydrolats examining their therapeutic properties, uses and application in modern day aromatherapy.

Students will have the opportunity to make an aromatherapy product which utilises hydrolats as one of its main constituents
Facilities
Scarborough (North Yorkshire)
See map
Cayley Court, Hopper Hill Road, YO11 3YJ
To take into account
A qualification in Aromatherapy
Questions & Answers
Ask a question and other users will answer you
Subjects
Aromatherapy

Advanced aromatherapy
Teachers and trainers (1)
Course programme
This one day workshop focuses on the properties and uses of 15 Carrier or Fixed Oils used in Aromatherapy.
The day will include a practical session on product making utilising some of the Carrier Oils studied.
AROMATHERAPY DIPLOMA
I recently completed the Clinical Aromatherapy course with Sue Lincoln at the Therapy Training Centre, and am now planning to go self-employed as a therapist. Before signing on to the course, I had done quite extensive research into finding the best and most appropriate course of study. I am so glad I took the time to do this, as I could not have been happier with the quality of the teaching and the excellent standard of the training and content of the course. Sue Lincoln has a profound depth of knowledge and passion for the subject, and a talent for sharing this with her students, and wherever possible she was able to personalise the course to suit our needs. The course content is very thorough, preparing the students completely for a professional future, and I will certainly be attending Sue's other courses for continuing professional development.
Cara Meredith, Scotland 2012
***************************
MASSAGE DIPLOMA
I enrolled on the AAPA and Sue Lincoln School of Holistic Therapies – Diploma in Therapeutic Massage Course in September 2011, I already had a massage qualification from 7 years ago, but felt I needed to "brush up" on my massage skills. This course seemed to offer a recap on my current skills and also cover new areas.
The course exceeded my expectations. Sue's teaching style encourages participation and active learning. Her knowledge base is vast and as well as teaching the basics she is able to diversify and has the expertise to teach many different approaches and treatment techniques. The training days were thoroughly enjoyable and I never felt I was in "school ". A highly recommended learning experience!
I have now developed a different approach to my clients, addressing their problems more specifically with assessment and making my massages more goal orientated.
I feel my skills as a massage therapist have dramatically improved since completing this course with Sue.
Lynn Morgan
Massage Therapist
East Yorkshire
2012
***************************
I have studied Anatomy and Physiology (distance learning), Making your own Natural Skin Care Products and Massage Therapy with Sue.
A very relaxed way of learning, Sue is responsive and sensitive to her student's needs and I found the teaching sessions very informal but informative. I always felt that Sue was open to discussions, not just slavishly following the written material.
Sue really does know her stuff and you will find that you go beyond any curriculum! Be prepared! There is a lot of work involved but Sue encourages you to liase with your fellow students and learn from each other!
Sarah Coverdale
West Yorkshire
2012
***************************
GENERAL
I have completed 4 of Sue Lincoln's courses / workshops (A&P, Clinical Aromatherapy and Natural face lift, Product making) and I am now embarking on Clinical Reflexology, Reiki 1 and Advanced Massage Techniques. Sue is a thorough and methodical teacher with excellent subject knowledge. She delivers her courses with enthusiasm and generously shares her knowledge and experience with her students. I am employed in education, and I cannot under estimate the time and dedication that Sue gives to all of her classes. Her teaching style is professional, yet human, fully addressing and understanding the individual needs of her learner's.
What I have gained from the course is the way Sue tailors the course tuition to your individual needs or interest. She is genuinely interested in you as an individual and whenever possible she will go in to deep detail about the subject matter (something you will never gain from a typical commercial therapy training provider). All of the course notes and materials that Sue provides are in depth and of a high quality.
I have found each course empowering and excellent value for money (otherwise I would have never enrolled on further courses). I have investigated other training providers, but to be completely honest they do not offer what Sue does, and I know that when I complete a course with Sue that I will gain a strong subject knowledge and have experienced in depth training that will allow me to confidently practise each therapy with expertise and professionalism.
The cherry on the cake is that I have made friendships through the courses that will last me a life time, and I cannot put a price on that!
Thank you Sue.
Sarah Jane Cooper
Scarborough
20012
Additional information
Having taught at many venues in the UK, I find that I always looked forward with great anticipation to teach for Sue. It is difficult enough to run a massage school in a large metropolitan area, but Sue provides a great service to our community through her own teaching. She has a sincere passion for providing the best education available in a caring and professional atmosphere. I wish all schools were so organized and dedicated and recommend the There Training Centre very highly,
Art Riggs Certified Advanced Rolfer® USA 2012 *************************** I've had the pleasure to work with Sue Lincoln at Therapy Training Centre on several occasions, and find her to be dedicated, caring, intelligent, and truly interested in helping her students become better therapists. The school is a professional setting that provides students the opportunity to learn and practice techniques. Yorkshire is lucky to have Sue providing the service she gives. Noah Karrasch, developer and instructor of CORE* Bodywork, advanced certified Rolfer, author of Meet Your Body and Freeing Emotions and Energy Through Myofascial Release, Missouri, USA.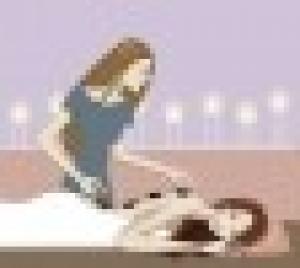 Carrier Oils - Properties, Uses and Applications