Clinical Considerations in Aeromedical Transport
Description
Typology

Course

Location

Guildford
Description
To gain knowledge and understanding on clinical considerations in aeromedical transport. Suitable for medical, paramedical, and nursing staff; for those working in organisations whose duties include the transport of the sick and injured by air; for aircrew flying aeromedical missions and air ambulances; and for military medical personnel. CCAT has evolved to be a network source, not just an introductory training course for beginners. Many experienced doctors and nurses register for the course and are able to share their own experience, expertise, and knowledge with others in the class.
Facilities
Guildford (Surrey)
See map
Questions & Answers
Ask a question and other users will answer you
Course programme
In recent years the growth of budget and low cost air travel, and of international tourism in particular, has been reflected in a major expansion of the aeromedical transport of those who have been injured, or fallen ill while overseas. Pre-hospital medical care has also developed rapidly, with helicopters now used by many emergency services.

It is a very 'practical' course, taught by aviation physiology and retrieval medicine experts. It addresses relevant issues of the special physical, physiological and psychological stresses that are important in the flight environment, and describes the conditions which are susceptible to this form of transport and how patients may be safely and efficiently carried.

Altitude physiology and transport medicine
The first part of the course is devoted entirely to the relevant principles of aviation and environmental physiology that form a basis for the remainder of the course. The second part of the course lasts four days, and covers clinical aspects of transport medicine with special relevance to fixed wing and rotary wing flight. It provides the necessary background to enable sensible and safe decisions about fitness to fly, and allows prediction of potential aeromedical problems. Lectures will cover individual susceptible pathologies, the problems of critical care in the air, and will also examine the importance of appropriate equipment, as well as the logistics and organisation of both helicopter and fixed wing operations.

Practical workshops, demonstrations and visits
In the past decade, notable visits and demonstrations have included:
Virgin Atlantic Airways
Qinetiq Centre for Human Sciences
Royal Air Force Tactical Medical Wing
CEGA Air Ambulance
London Helicopter Emergency Medical Services (HEMS)
Thames Valley Air Ambulance
Wiltshire Air Ambulance & Police Support Unit
Royal Air Force Search & Rescue
Executive jet aircraft facilities
Demonstrations of commonly used air portable equipment
Previews of new items of equipment
Lifting and loading techniques
Patient packaging, spinal management and other orthopaedic equipment
It is planned that delegates will spend a day with Virgin Atlantic Airways in their cabin training facility where there will be opportunities to examine and try out medical equipment carried on board commercial aircraft, take part in cabin evacuation exercises and scenarios of medical incidents in flight, and to learn more about the services that airlines offer to medical assistance companies.

Depending on availability within the program, the course may also include fixed wing or helicopter air ambulances. In the past we have featured a Royal Air Force search and rescue Sea King helicopter, the UK's first NOTAR air ambulance (Boeing 902 Explorer) from the Wiltshire Ambulance Service, Thames Valley Air Ambulances (Agusta 109 and Bolkow 105), and a visit to the Helicopter Emergency Medical Service at the Royal London Hospital. In each of these visits, particular attention was paid to the problems of treating patients on board, and to the use of medical equipment in aircraft. Aspects of cabin safety, and the use of survival equipment will also be covered.

Severe restrictions have been placed on our visits to Qinetiq. However, if agreement can be made, delegates may be offered an opportunity to experience relative hypoxia following a rapid decompression to 25,000 feet in the safety of a ground-based altitude chamber. It may also be possible to experience the effects of whole body vibration and spatial disorientation. These physiology demonstrations are staged by the altitude research group at Qinetiq in Farnborough (formerly the RAF Institute of Aviation Medicine) and were not available to 2007 delegates. Please note they can not be guaranteed for the course.

Participants should note that operational difficulties beyond the control of the CCAT course may lead to cancellations or changes in the visits programme.

On arrival, participants will receive a complimentary copy of the textbook 'Aeromedical Transportation: A Clinical Guide' (rrp £30.00) written by Dr Terry Martin, as well as a folder of up-to-date and relevant notes to accompany the lectures. Participants practical skills and knowledge will be assessed throughout the week, and the course will be completed by a short multiple choice examination.

Accreditation
On successful completion of the course, delegates will be awarded a course certificate. For medical practitioners, an award of 50 Continuing Professional Development (CPD) credits has previously been provided by the UK Royal College of Physicians (accepted by the other Royal Colleges). CPD has been requested for the next course. PGEA accreditation has not been purchased for the course, but individuals may apply to their local Postgraduate Dean.

Nurses registering for PREP points will be required to provide the NMC with a professional portfolio which details the hours of practice and study undertaken on this course. The minimum study requirement is five days of study activity every three years. This course may qualify candidates for PREP points, but the NMC is the only body which can approve registration, and it does so on an individual basis.

Those requiring CATS points must also provide a complete portfolio to their university, showing evidence of study. Each portfolio is individually assessed towards accreditation for a diploma or degree. Further information on CATS points can be given by the individual's university registration department.

Accommodation
University accommodation can be added to the course fee. This is the recommended option because the University is rather remote and travel between local hotels and the University is difficult for some of the early starts and late finishes on the course. In addition, delegates in previous years have enjoyed socialising and networking after formal classes have ended.

The accommodation is either standard or en suite rooms in modern student's Hall of Residence. The cost includes breakfast and dinner. The costs of lunch plus morning and afternoon refreshments are included in the course fees.

Please note that, although the rooms are in modern accommodation buildings, they are not hotel rooms and the beds are single. There is no family accommodation available on campus. The standard rooms are comfortable and contain a sink, but bathroom and kitchen facilities are shared. The en suite rooms are slightly larger and contain a toilet and shower. None of the rooms have television or radio.

You must make your own arrangements if you require alternative accommodation.

Parking on the campus is free of charge and use of many of the University facilities is complimentary. Full details will be provided with the joining instructions.
Additional information
Payment options: CCAT (no accommodation) £1100(Until 30 April); £1300(From 1 May) CCAT with standard accommodation 5 nights (Sun until a.m. Fri) £1475(Until 30 April); £1675(From 1 May) 6 nights (Sat until a.m. Fri) £1550(Until 30 April); £1750(From 1 May) CCAT with en suite accommodation 5 nights (Sun until a.m. Fri) £1525(Until 30 April); £1725(From 1 May) 6 nights (Sat until a.m. Fri) £1610(Until 30 April); £1810(From 1 May) Optional extras (pay in advance) Extra day standard room/night £70 Extra day en suite room/night £80 Course dinner £25 (approx) pay on course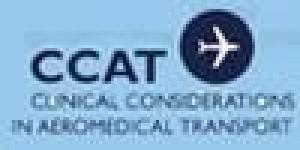 Clinical Considerations in Aeromedical Transport