24x7 Online Access Multimedia Training
Save 75%
Cyber Security & Forensics Master Training Bundle
1 opinion
Well structured and easy to understad. I have already recommended this centre to my friends and one has signed up. Thank you so much!
Description
Typology

Training

Level

Beginner

Methodology

Online
Duration

Flexible

Start

Different dates available
Description
After a massive amount of inquires from our students, Learn365 has created the ultimate IT security certification bundle.

In today's world, security is a constant concern of any business or organization. With techniques changing every day, it's paramount that companies protect themselves by having high level security experts on staff. One small oversight can cost millions so companies are willing to pay the high salaries demanded by these types of IT professionals.

With this bundle students will cover all crucial areas of security; from network security, cloud security, database security and even project management security procedures. Students that acquire these certifications will be rewarded with a massive potential of open positions with some of the highest salaries in the IT market.

This bundle will provide the necessary training for the following certifications; CISSP, CISM, CCSK, PMI Risk Management Professional, CISA, CASP and Security+. Take yourself to the top of your field with this Learn365 Training Bundle.

PLEASE NOTE: These are the training courses only. Exam costs are not included. Some certifications have additional requirements for exam eligibility such as job-role experience etc.
Facilities
Starts
Different dates available
Now taking bookings
To take into account
Certificate of Completion
Questions & Answers
Ask a question and other users will answer you
Opinions
Well structured and easy to understad. I have already recommended this centre to my friends and one has signed up. Thank you so much!
Former Student
What I would highlight:
Well structured and easy to understad. I have already recommended this centre to my friends and one has signed up. Thank you so much!
Would you recommend this course?:
Yes
See all
Subjects
Market

Risk

Security

Risk Management

Information Systems

IT

CCNA

Hacking

Flash

systems

Industry

IT risk

IT Security
Teachers and trainers (1)
Online Course Online Course
12 Month Unlimited On-Demand Online Access to the Course.
Course programme
The Cyber Security and Forensics Master Training Bundle contains the following courses:
Computer Hacking Prevention
CompTIA Security+
PMI Risk Management Professional
CCSK - Cloud Computing Security Knowledge
Certified Information Security Manager (CISM)
Certified Information Systems Security Professional (CISSP)
Certified Information Systems Auditor (CISA)
LEARN365 Courses Include 12 Months Unlimited Online Access to:
Expert Instructor-Led Training: Learn 365 uses only the industry's finest instructors in the IT industry. They have a minimum of 15 years real-world experience and are subject matter experts in their fields. Unlike a live class, you can fast-forward, repeat or rewind all your lectures. This creates a personal learning experience and gives you all the benefit of hands-on training with the flexibility of doing it around your schedule 24/7.
Visual Demonstrations & Multimedia Presentations: Our courseware includes instructor-led demonstrations and visual presentations that allow students to develop their skills based on real world scenarios explained by the instructor. Learn 365 always focuses on real world scenarios and skill-set development.
Quizzes & Exam Simulators: Learn 365's custom practice exams prepare you for your exams differently and more effectively than the traditional exam preps on the market. You will have practice quizzes after each module to ensure you are confident on the topic you have completed before proceeding. This will allow you to gauge your effectiveness before moving to the next module in your course. Learn 365 courses also include practice exams designed to replicate and mirror the environment in the testing center. These exams are on average 100 questions to ensure you are 100% prepared before taking your certification exam.
Social Learning & Networking: Learn 365 has designed a world class Learning Management System (LMS). This system allows you to interact and collaborate with other students and Learn 365 employees, form study groups, engage in discussions in our NOW@ Forums, rate and like different courses and stay up to date with all the latest industry knowledge through our forums, student contributions and announcement features.
Flash Cards & Educational Games: IT online learning knows that education is not a one size fits all approach. Students learn in different ways through different tools. That is why we provide Flash Cards and Education Games throughout our courses. This will allow you to train in ways that keep you engaged and focused. Each course will have dozens of Flash Cards so you can sharpen your skill-sets throughout your training as well as educational games designed to make sure your retention level of the materials is extremely high.
Navigation and Controls: Learn 365's self-paced training programs are designed in a modular fashion to allow you the flexibility to work with expert level instruction anytime 24/7. All courses are arranged in defined sections with navigation controls allowing you to control the pace of your training. This allows students to learn at their own pace around their schedule.
Certificate of Completion: Upon completion of your training course, you will receive a Certificate of completion displaying your full name, course completed as well as the date of completion. You can print this out or save it digitally to showcase your accomplishment.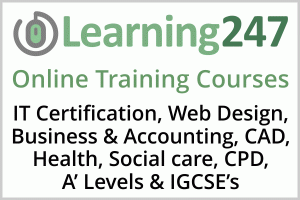 Cyber Security & Forensics Master Training Bundle